文字:张丁钰,阎雯青   图片:董宗师,崔迪
Article: Dingyu Zhang, Wenqing Yan   Photos: Zongshi Dong, Di Cui
瑞士中国学人材料科学与能源协会2019年会于10月12日下午在苏黎世联邦理工学院内顺利召开。来自瑞士各地材料与能源相关专业及对此感兴趣的五十余名学生学者参加了本次年会。苏黎世中国学生学者联合会主席杨美霞及苏黎世中国科学俱乐部代表王重力作为嘉宾出席了本次年会。年会邀请了四位研究材料科学及能源领域热点问题的教授进行主题演讲。演讲之后举行了协会的理事会换届仪式。本次年会在阎雯青女士与Antoine Gilliand先生的主持下进行。
—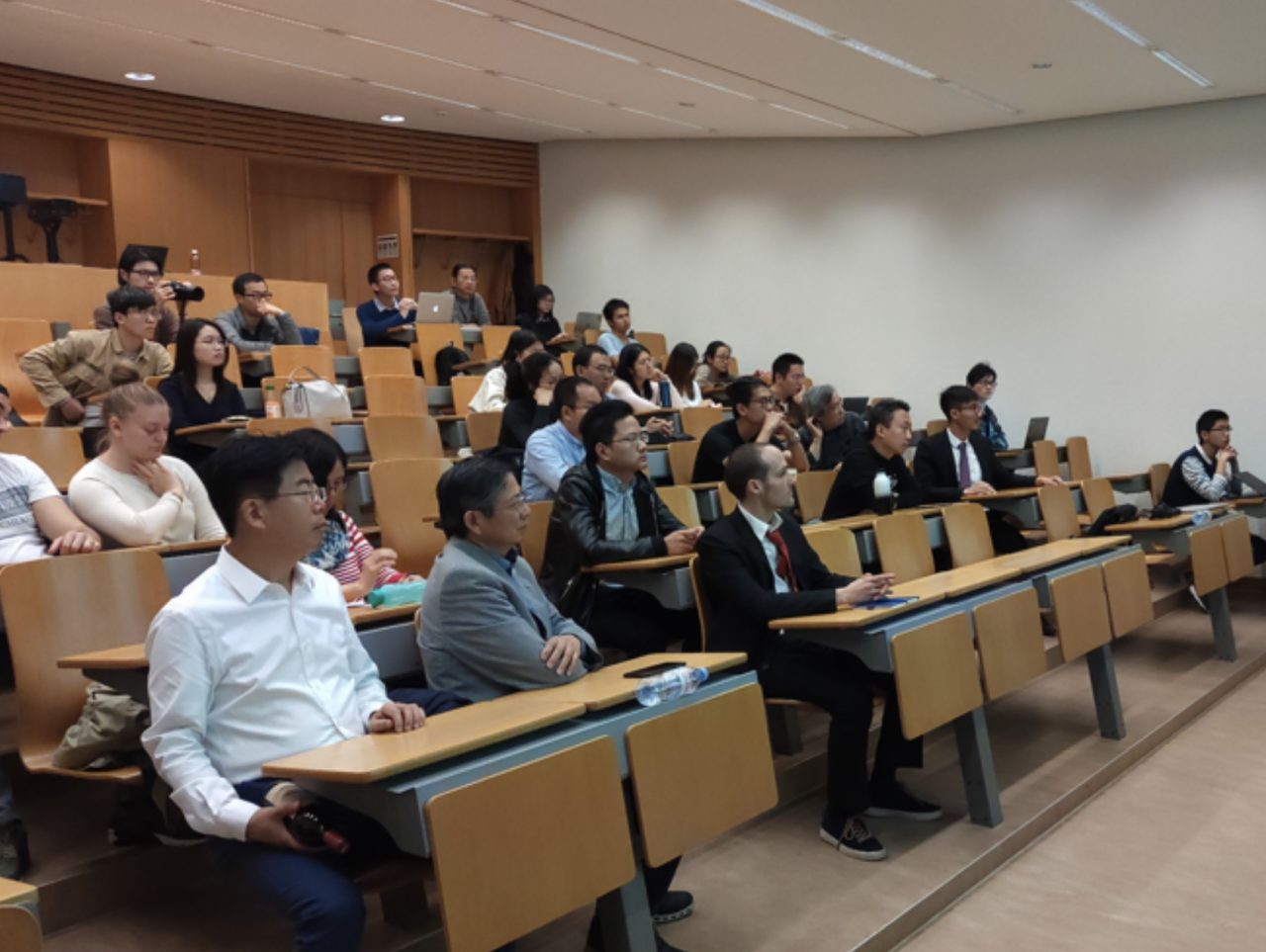 瑞士中国学人材料科学与能源协会2019年会在ETH Zürich举行
The 2019 Annual Meeting of Chinese Association of Materials Science and Energy Technology in Switzerland was held in ETH Zürich
——
On 12th Oct. 2019, Chinese Association of Materials Science and Energy Technology in Switzerland (CAMSETS) held the 6th annual meeting at the ETH Zürich. More than 50 students and scholars from or interested in materials and energy-related disciplines across Switzerland have attended this annual meeting. Mrs. Meixia Yang, the president of Association of Chinese Students and Scholars in Zürich, and Mr. Zhongli Wang, the young representative from Chinese Science Club in Zürich joint meeting as our distinguished guests. The meeting this year invited four keynote speakers, the leading experts in the fields of materials science or energy technology, to give their speeches in the event. Afterward the meeting witnessed the transition of council of CAMSETS. This meeting was hosted by Ms. Wenqing Yan and Mr. Antoine Gilliand.
——
主持人阎雯青和Antoine Gilliand
The hosts: Wenqing Yan and Antoine Gilliand
——
首先,瑞士中国学人科技协会的戴勇博士为此次年会带来了精彩的开幕式致辞。其后,四位主讲人Edwin Constable教授, Patrik Hoffmann教授, 许钦博士以及Ingo Burgert教授先后进行了精彩的主题演讲。报告具体内容在最后。
The annual meeting started with a comprehensive opening remark by Dr. Yong Dai, the president of Chinese Association of Science & Technology in Switzerland, which was followed by four wonderful keynote speeches from Prof. Edwin Constable, Prof. Patrik Hoffmann, Dr. Qin Xu and Prof. Ingo Burgert. The details of Keynote Speech are summarized at the end.
在精彩的主题演讲之后,理事会换届仪式开始。瑞士中国学人材料科学与能源科技协会前会长曲军博士深情回顾了协会自2013年成立以来六年的人和事,后将职位传接到下一任主席梁舒宇博士。新任会长梁舒宇博士介绍了自己和在建中的新理事会,由衷感谢了曲军博士,协会及其使馆对他的支持与信任,并表达了自己对带领协会继续发展的热情与信心。
After the keynote speeches, the transition of council was held. Dr. Jun Qu, the former president of CAMSETS, recalled the highlights of the association over the past six years from 2013 and transferred his missions to the next president, Dr. Shuyu Liang. After introducing himself and the ongoing-constructed committee, the new president expressed his gratitude for the supports and trusts of Dr. Jun Qu, the association and the Chinese Embassy in Switzerland. He further showed his enthusiasm in leading CAMSETS to a new stage.
——
开幕致辞:戴勇博士
Dr. Yong Dai
——
主题报告具体内容
Keynote Speech in details.
Edwin Constable教授来自巴塞尔大学,他的演讲主题是"可持续材料化学:逃脱贵金属范式"。在演讲中他讲到,能源的必要性与生产能源所带来温室效应的冲突,使得我们需要改变现在的能源结构以便可持续发展。我们从自然界中受启发,研究出了染料敏化太阳能电池,但典型染料为钌基配合物。Constable教授提出用铜来替代稀有且昂贵的钌。他讲述了如何合成均配物染料[Cu(diamine)2]+,如何保护其中的铜离子,并对比了几种均配物染料的性质。另外,他还详细介绍了合成杂配位染料[Cu(Lanchor)(Lancillary)]+的SALSAC法。在此之后,Constable教授提到可以用脱色再生来延长染料敏化太阳能电池的使用寿命,用共敏化来提高其效率。在演讲的最后,Constable教授表示,考虑到原子经济,铁是一种比铜和钌更好的选择,并展示了相关的一些研究数据。
Professor Edwin Constable is a professor of Chemistry in University of Basel. The theme of his speech was "Sustainable Materials Chemistry: Escaping the noble metal paradigm". He started from the state that sustainable and renewable energy needs to be developed because energy was necessary but producing energy meanwhile generated CO2 and accelerated global warming. Inspired by biology, the Dye Sensitized Solar Cell (DSC) was invented, but it used Ruthenium (Ru) complex as the typical dye. Prof. Constable proposed an improvement, using Cu as an alternative to Ru, which was richer in nature and thus cheaper. He then introduced how to technically achieve it, including the synthesis of homoleptic dyes [Cu(diamine)2]+, the protection of Cu ion and comparison of its difference types. The strategies for DSCs with heteroleptic dyes [Cu(Lanchor)(Lancillary)]+ – 'Surfaces-as-ligands, surfaces-as-complex' (SALSAC) approach was also further discussed. Prof. Constable also introduced the bleaching and regeneration method to increase the lifetime, and the co-sensitization to fill in the gaps in the absorption spectrum and therefore increase the efficiency. Prof. Constable mentioned in the end that iron could be a better choice in consideration of atom economy and showed some research results about that.
——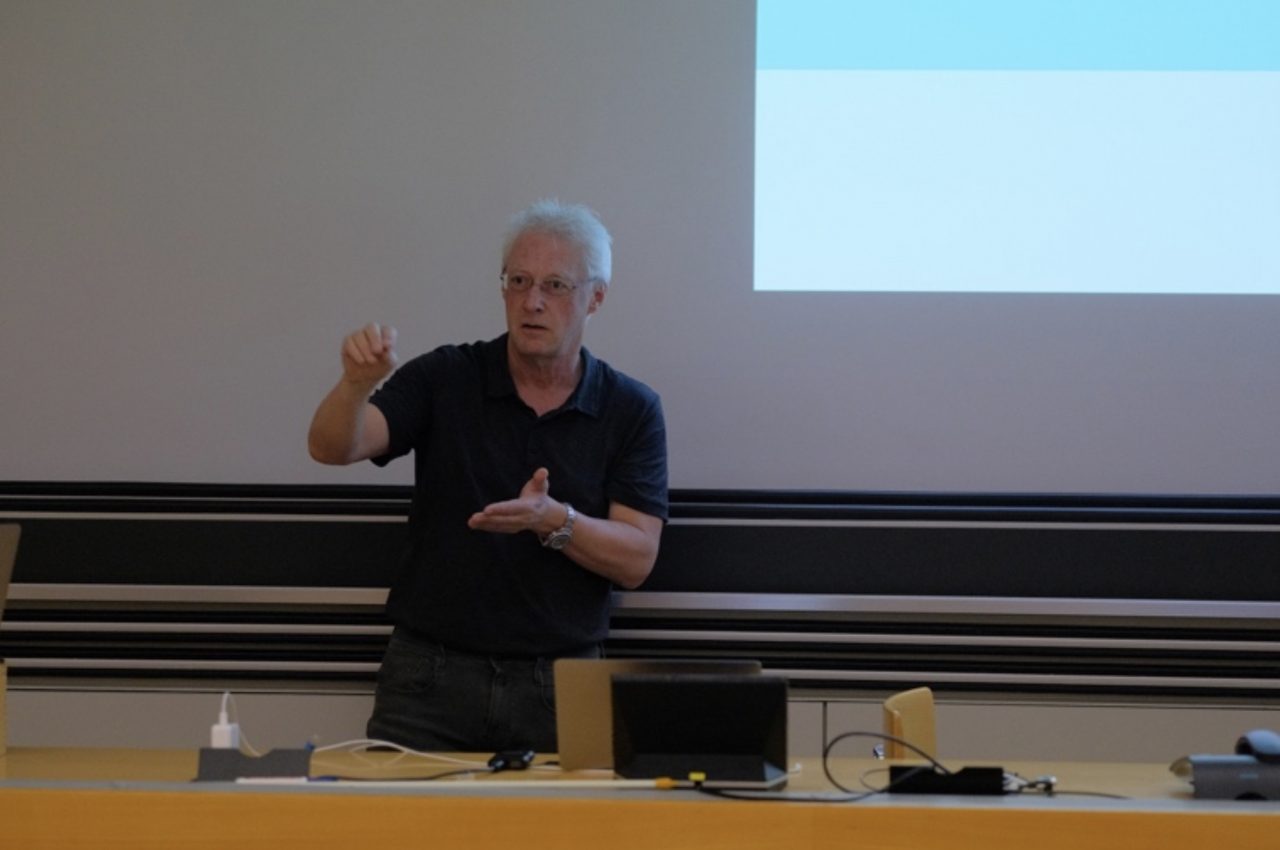 邀讲人:Edwin Constable教授
Prof. Edwin Constable
——
Patrik Hoffmann来自瑞士联邦材料测试与开发研究所Empa,是先进材料加工实验室LAMP的负责人,同时任职洛桑联邦理工学院EPFL光子材料与表征实验室LPMAT的副教授。他首先介绍了LAMP内互相促进补充的四大研究方向:高能束3D打印、激光加工、粉末改造和运输、实时工艺控制。在题为"使用激光的金属3D打印进展–归根结底冷却速率就是关键吗?"的演讲中,Hoffmann教授阐释了冷却速率对材料性质的影响,如低至10-3 K/s的冷却速率可制得单晶硅用于半导体工业,而快如105 K/s的冷却速率则能让金属来不及结晶,从而得到同时具有高弹性模量和强度的非晶态合金,又称金属玻璃。Hoffmann教授介绍了用3D打印的方法实现硅在单晶硅片上外延生长的成果,未来进一步小型化后,有望用于直接打印芯片。此外,他还介绍了用声学方法实时检测3D打印缺陷的结果、激光重熔对金属晶粒尺寸的影响、表面张力对熔池流动行为影响的模拟结果等等。
Professor Patrik Hoffmann is head of Laboratory for Advanced Materials Processing (LAMP) at Swiss Federal Laboratories for Materials Science and Technology (Empa) and adjunct professor in Laboratory for Photonic Materials and Characterization (LPMAT) at Swiss Federal Institute of Technology Lausanne (EPFL). He first introduced the four complementary research fields in LAMP: beam steered 3D printing, laser processing, powders and real-time process control. In his speech "Recent advances in 3-D metal printing with lasers – is it all about cooling rates?", Prof. Hoffmann explained the influence of cooling rate on materials properties. On one hand, a cooling rate as low as 10-3 K/s creates monocrystalline silicon for the semiconductor industry. On the other hand, a cooling rate as high as 105 K/s can prevent metals from crystalizing, thus creating amorphous alloys or metallic glasses, that perform both high elastic modulus and high strength. Prof. Hoffmann introduced a PhD work in his lab where epitaxial growth of silicon on a silicon wafer was achieved. This technology could be used to directly print chips in future if successfully miniaturized. In addition, he also introduced defect detection in 3D printing using acoustic emission, influence of laser re-melting on metal grain sizes, simulation of the influence of surface tension on molten pool behavior, etc.
——
邀讲人:Patrik Hoffmann教授
Prof. Patrik Hoffmann
——
许钦博士目前是ETH Zürich的博士后研究学者,他将在2020年三月被聘为香港科技大学物理学院助理教授。他演讲的题目是"界面力学和软固体的固态毛细现象"。演讲主要是关于杨氏模量在10-6GPa左右,比皮肤软千倍的软固体。首先,许博士介绍了软材料的表面张力。表面张力是软材料研究中和界面力学的重要概念。由于研究软材料的表面张力需要对极小的物体进行观测,对其的实验需要借助高端的光学仪器。而后许博士介绍了两种仪器,其中一种为共聚焦显微镜,它通过扫描的方式构建3D测量,但是因其扫描需要的时间较长,它无法观测动态运动,无法用来研究润湿动力学。另一种仪器为干涉显微镜,它通过干涉来进行3D测量,速度更快,也是许博士在实验室搭建并用来测量的仪器。实验表明,软材料的表面张力是可控的,且与体应力相当。许教授还讲解了渗透流对松弛过程的影响。另外,许博士详细讲述了软固体的液-液相分离,包括对细胞所在的弹性网络中的液-液相分离的研究,以及其对生物结构性颜色的影响。在演讲的最后,许博士指出用软凝胶制造软机器人及软电子器件是现在的热点研究主题。
Dr. Qin Xu is presently a postdoctoral scholar in ETH Zürich, and he will be appointed tenure-track Assistant Professor of Physics at Hong Kong University of Science and Technology from March 2020. He gave a speech about "Interfacial Mechanics and Solid Capillarity of Soft Solids". It focused on the soft materials that were 1,000 times softer than skin and with the Young's modulus around 10-6 GPa. First, Dr. Xu talked about the role of surface tension in interfacial mechanics. Surface tension was an important mechanical property in research of soft materials. Experiments and measurements on surface tension of soft materials required advanced optical technique because of its tiny scale. Dr. Xu explained two kinds of instrument, one of them was confocal microscope, which can conduct the 3D measurement in a scanning way. However, confocal microscope required a much longer time than that taken by spontaneous dynamic motion to measure and thus have a relatively lower efficiency for studying the wetting dynamics. Another type of instrument was interference microscope, which Dr. Xu has built in his lab. In principal this designed device generates 3D image by interference with a much faster speed. Experiments showed that surface tension of soft materials was controllable and comparable to bulk stress. Dr. Xu also explained the great effects osmotic flow had on the relaxation process. Then he talked about liquid-liquid phase separation, including researches of it in cells' elastic network and that the separation distance can structurally deviate the appearance color in biology. He mentioned in the end that making soft robotics and soft electronics via soft gel technology are both also the hot topics nowadays.
——
邀讲人:许钦博士
Dr. Qin Xu
——
Ingo Burgert教授来自ETH Zürich。他的演讲主题是"高级的木质材料"。首先,Burgert教授提到,目前的材料不仅仅要满足人们对其性能和可靠性的需求,还要结合可持续、可回收、能源效率高、环境友好等等发展上面的要求,这促使木质及纤维素材料发展出新的概念。例如,自下而上的,发展新性能的纤维素材料、流动辅助型碳纳米纤维在大型纤维中的应用、用于3D打印的纤维纳米晶体墨,及自上而下的各种木质结构的运用。Burgert教授讲到,在材料设计中,我们可以利用数种木质结构各自的优势。他指出,限制木质材料被更广泛运用的问题来自于其尺寸的稳定性,紫外稳定性,耐久性及阻燃性。对木质材料表面的修改及矿化处理可以改善其可靠性及阻燃性。具有新性能的木质材料可以发展出新的应用领域,例如透明轻木,有导电能力的木质结构及有磁性的榉木(内置氧化铁纳米粒子)。另外,受基于吸湿反应的植物驱动系统启发,木质材料同样可以采用双层原理,这使木质材料可以形变,可应用于各种可变木质元件及弯曲木件的制造。Burgert教授也介绍了一种高性能的用于可持续工程的纤维素材料 – 通过去木质和致密化过程构造成的致密化纤维素复合材料,以及去木质木聚合物互穿复合材料。
Professor Ingo Burgert is a professor of ETH Zürich. The topic of his speech was "Advanced Wood Materials". He pointed out that the challenges materials faced nowadays were to be renewable, recyclable, energy efficient and environment friendly as well as to fulfill the requested performance without losing reliability. These drove developments of various new concepts for wood-based and cellulose-based materials. The bottom-up approaches included developing cellulose-based materials with new feature profiles, flow-assisted organization of CNFs into macroscale fibers, cellulose nanocrystal inks for 3D Printing etc. while the top-down approach focuses on the use of the hierarchical structure of wood materials. Prof. Burgert suggested that we could take advantages of various structures of wood for materials design. He further pointed out that the limiting factors blocking wood for a wider application were dimensional and UV stability, durability and flame retardancy. He showed that surface modification and wood mineralization could improve wood's reliability and flame retardancy. Then, Prof. Burgert introduced new fields of application that were potential to be reached by wood with new property profiles, e.g. transparent balsa wood, wood with electric conductivity and magnetic beech wood with iron oxide nanoparticle assembly inside. Moreover, inspired by the plant actuation systems based on hygroscopic responses, the bilayer principle could also be done on the wood and this allowed wood to conduct a shape change, which could be used to develop deformable wood elements and manufacture curved wood parts. Prof. Burgert also discussed the promises of densified cellulose composites and polymer interpenetrating wood composites for sustainable engineering applications.
——
邀讲人:Ingo Burgert教授
Prof. Ingo Burgert
——
前任会长曲军博士及现任会长梁舒宇博士
Former President Dr. Jun Qu and New President Dr. Shuyu Liang
——
活动最后是快乐的Apéro时光。
The meeting ended with an Apéro.
——

参会者合影
Group Photo
——